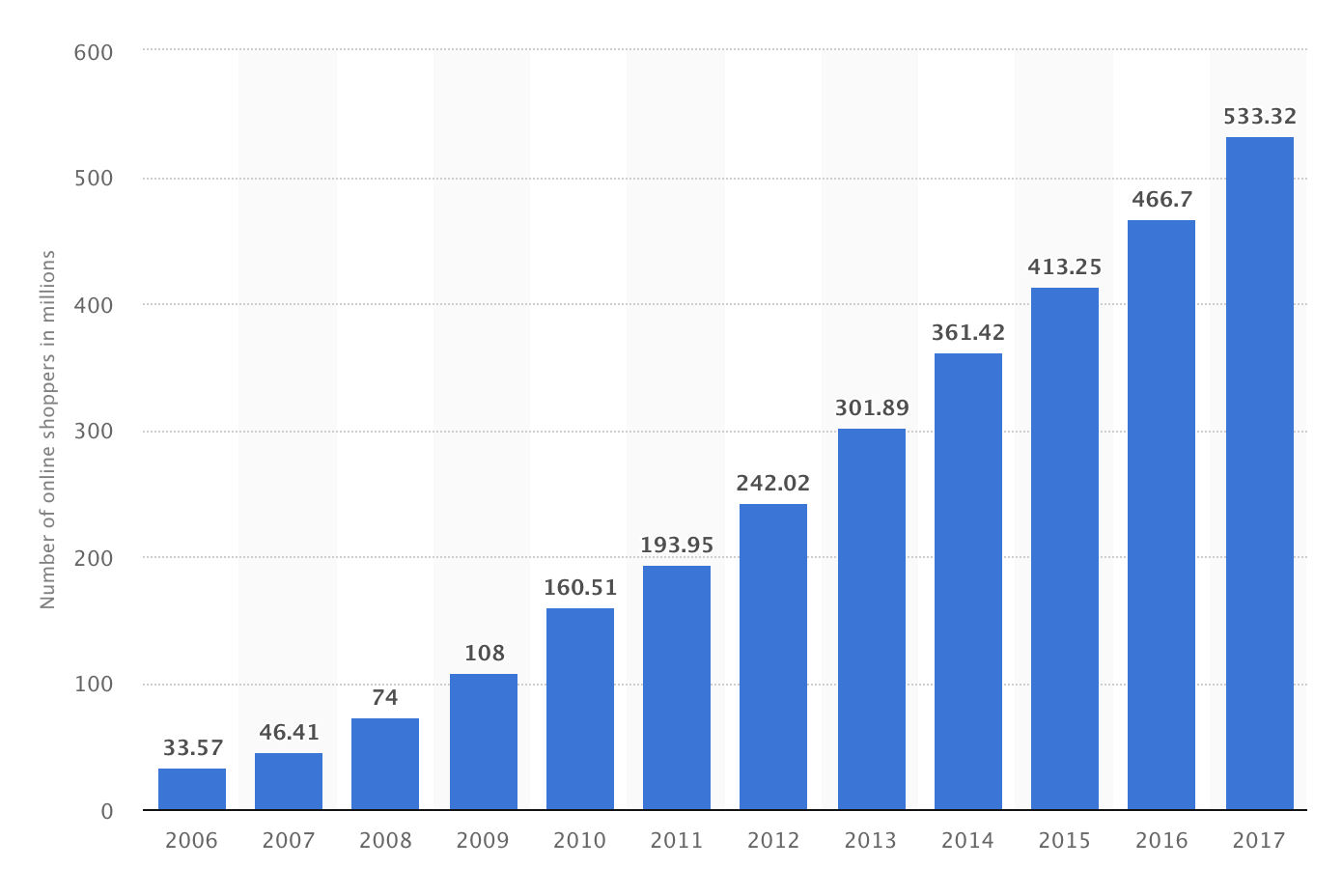 The graph shows the number of online shoppers in China from 2006 to 2017. In 2017, about 533 million people in China had purchased goods online.
E-commerce in China – additional information
The past decade has seen rapid growth in the demand for online shopping opportunities in China. The number of online shoppers in China has been increasing exponentially from below 34 million in 2006 to over 361 million users in 2014, enabling this enormous spurt of China's e-commerce sector. As of 2013, digital buyer penetration rate in China has edged close to 50 percent, far exceeding the worldwide average online shopping penetration of 41.3 percent.
China has been the world's second-largest e-tailing market after the U.S. in recent years. As of 2013, the gross merchandise volume of online shopping in China had amounted to over 1.8 trillion yuan and is projected to reach approximately 4.5 trillion yuan by 2017. In 2014, the volume of B2C e-commerce sales in China was expected to reach 275 billion U.S. dollars, accounting for 1.31 percent of China's gross domestic product (GDP). The largest B2C e-commerce retailer in China with regard to gross merchandise volume (GMV) had been Tmall. The B2C online retail platform operated by Alibaba Group had generated a transaction volume of about 441 billion yuan in 2013. The leading C2C online retail platform taobao.com, also operated by Alibaba group, had a market share of beyond 96 percent in 2013. That year, the value of C2C sales in China had amounted to nearly 1.2 trillion yuan.
source: https://www.statista.com/statistics/277391/number-of-online-buyers-in-china/